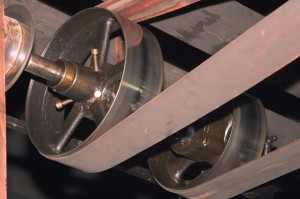 Leather Transmission Belts or Lexicon Belt or Leather Belt is designed for high-speed and load bearing machines. Usually belt get warm at high-speed and slips from shafts too.
Leather Transmission Belts provided by Al-Haq Traders solves this issue to industries like Textile, Paper, Tobacco & others. We have been supplying various kinds of industrial belts to various industries from many years.
Leather Transmission Belts Properties
These belts are manufactured to lower power consumption, nearly zero slippage at shafts with no elongation at load. Leather Coating ensures shaft grips, longer life, uniform speed & higher production benefits. We have single & double side Leather Transmission Belt. We keep reasonable stock of different belting to complete your requirements on time. If you belong from Paper Mills, you must read Paper Mill Belt Installation Tutorial at our blog.
Leather Transmission Belts Manufacturers
We have leather belting for Paper, Board & Pulp Mill | Match & Tobacco Industries | Wood (Ply wood/ Chip board) Industries | Textile (Spinning, Weaving) | Cement,  Chemicals and Floor | Printing & Packaging | Rubber | Tire | Automotive | Coal and many others.
Imported Leather Transmission belt from Habasit-Switzerland | Ammeraal Beltech-Switzerland | VIS-Germany | Forbo Siegling-Germany. These belt requires less power. Especially made to maintain constant RPM even on small pulley diameter. Leather Transmission belts treats bearing or bushes gently. They are vibration free which indirectly reduces manufacturing cost of produced goods.
We also offer on site joints services, V-Belts, Carrier Sidewall Conveyor Belts, Conveyor Belts and other Belts.
Choose us for Leather Transmission Belts…
Better Shaft Grips

Low Elongation

Edges Stability

Vibration-Free Operation

High Production Benefits

Machine Oil, diesel, Fuel reduced operating cost

High Abrasion Resistance

Bending properties (soft)

Durable to Save Replacements

Satisfactory Results

Nation-Wide On Site installation services with no extra costs