Belting for Printing & Packaging Industries
We are Offering Offset Printing Machinery Belts to all Pakistani Industries. You are on the right place to meet all your Printing Machinery Belting Needs.
Paper Folder Machine Belts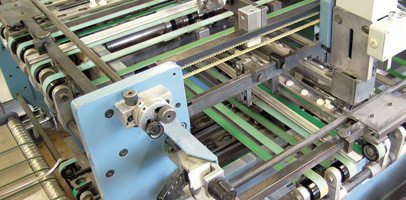 Paper Folder Machine Belts are most common issue customer face in Offset Printing & Packaging Industries because there is no adjustment for belt tension. All you can do is make Perfect size Paper Folder Belts. These are high-speed & requires joint them perfectly.
They make some little mistakes like buying low quality and repeatedly pay for them. Paper Folder Machine is designed to Perform Paper Folding Fast and Better. Belts in Picture are basically Nylon Belts (that are used for high speeding) Categorically: Power Transmission Belts or Flat Belts.
Paper Folder Machine Belts from US
We install these Paper Folder Machine belts in offset Printing & Packaging Industries all over the Pakistan at economical pricing. Our services are Outstanding, We are in Lahore (Head Office) but our staff is also in other cities like Faisalabad as well as in Islamabad and others, if not available at that time, We offer visiting you anywhere in Pakistan.
Folder Gluer Belts
We offer a range of Folder Gluer Belts for Paper & Box folding machines or folding gluing machines as feeder belts, conveyor belts, delivery belts & timing belts. We have been in industrial belts business since 1970. All of our products are genuine & trust worthy.

Folder Gluer Belts – Feeder Belts
Feeder belts are available in local molded, European molded, direct import, Local & Imported natural rubber pasting on belt. We can produce these belts in following thickness options of 5 mm to 10 mm. Most of new customers highlight their problem of jump in Feeder Belt rubber joint or in Folder Gluing Belt Joints. We guarantee our Jointing is of European standards by using German tools.
Folder Gluer Belts Properties
Folding Gluing machine belts are specially engineered for leaving no mark during transferring & bending paper & board. It also have highest grip on machine and paper to avoid to production losses. Once you buy, we'll be your preferred supplier for Printing & Packaging requirements of all belts. We commit to clients for providing better among best quality belts.
Kodak Computer to Plate (CTP) Machine Belts
V-shaped belt are conveying Offset Printing Machine plates & doing job of Conveyor belts.
Printers never want to stuck their old plate making technique and wait for long. This is why switching to automatic Computer to Plate or CTP machine. We can provide complete belting range for Offset printer.
Offset Printing Machine Table (feed board) Belts
We Al-Haq Traders are proud of being the supplier of Feed board Belts & Speed Belts (Poly V, Ribbed, V, Grooved, Folder Machine, Folding Gluing Belts to Printing Press. More than 90% are our clients and they are well reputed names in Printing & Packaging.
We are offering services like installation of these belts on your Solna, Heidelberg, Mili, Roland & others printing machines table as well as we provide ready to joint belts and you can joint them when you need to replace.
How to Joint Offset Printing Machine Belts
Go through the shafts where belt was previously installed, make sure that every turn is right and belt is not turned.
It is mandatory for avoid touching of Oil, Greece and any chemical on the skived ends. It shall effect efficiency of bonding/jointing.
Once belts are placed accurately, come to the skived ends and for bonding.
Add little adhesive on skived ends and not even a single mm should be left untouched with adhesive. Normally skived end of Printing Machine tape is 27-35 mm length x 25-28 mm width.
After successful application of adhesive leave the ends for 2-3 minutes for getting that liquid little dry.
It shall start fixing after drying if you place one end to another end. Little fixing of skived ends will make you sure that its going good.
Fix it, place it correctly as per skived ends
Tighten side bars that belt do no turn, don't tight so much, it shall give a punched marked.
Tighten Upper section and switch it on for 15 minutes at 70-90 C°
This is all you have to do for proper boding or fixing belt. We also sale HOT PRESS (Heidelberg).
Reduce your Printing Cost by replacing Belts
Reducing Printing Press Paper Board Cost has been an issue to all Offset Printers or Printing & Packaging Industries. High Cost = Less Profit & Low Cost = High Profit is a universal law in businesses. Most of the printers often share their high costing due to damaged printing.
Reducing Paper & Board Cost in Printing Press could be done by changing your feed board or table belts in Printing Machines.
It is not the only process of reducing paper costing but it is one of them, this extra cost will reduce your present cost. In belting business we keep taking customer's feedback regarding our products & services, so we knew it. Our Printing Machine Belts are top & bottom rough surfaces to ensure grips on both paper and machine shafts/rollers.
Example: How changing belt can reduce your cost?
Your car runs 13-15 KM per litter, and it comes to 7-8KM per litter. Your mechanic advises you to change some of the parts to get your previous mileage back. Would you or wouldn't you? Of course you would because this minor or major cost will reduce you daily cost in long run.
While machine runs these belts rub with shafts, dishes, small pulleys, it starts loosing it Abrasion property and belts get plain from both sides. These plain belt gets slippage from dish side and also paper doesn't get grip at top of belt side too. Slipped paper gets little forward or backward, right or left that is not seen with eyes unless printed paper comes out from Machine.
Approximately all of customers admits their paper use in different jobs are reduced in countable numbers. We being specialist in Industrial Belts offer this services to our Printers in Pakistan. We have different options for different customers.
Manufacturers of Our belts especially designed & produced Belting under advanced manufacturing techniques. World's top manufacturing concerns as Forbo-Siegling Germany, Habasit Switzerland, Nitta Korea, Ammeraal Beltech Switzerland, Choirino Italy and as well as Chinese with synthetic rubber & nylon. Our belts are Soft and bearing friendly easy bending belts for different sections like folding, delivery, feeding & conveying section.
Why Buy Printing & Packing Machinery Belts from US…
Shaft Grips

High Production Benefits

Treats bearing gently

Mark-Free (No Marks on Transported Product)

High Abrasion Resistance

Bending properties (soft)

Durable to Save Replacements

Satisfied clients from this area of industry

Special requirements are fulfilled by customization

Belts thickness availability 3 mm | 4 mm | 5 mm | 6 mm to 10-12 mm